5 Reasons You'll Love CenturyLink Prism TV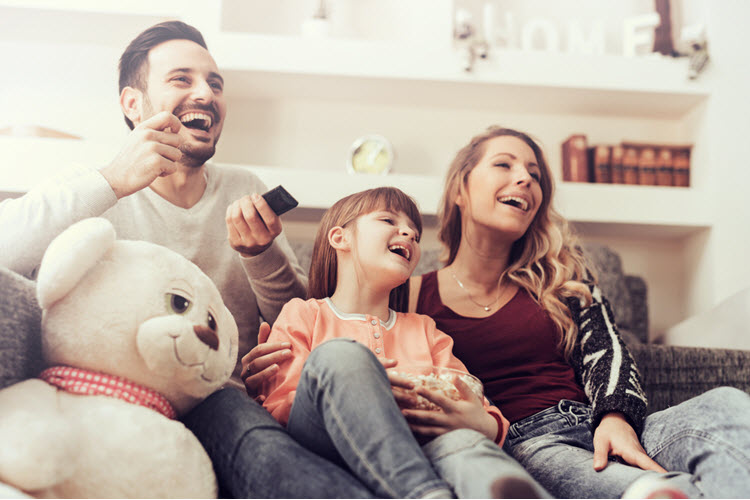 When shopping for a TV service, it's important to do your due diligence and get exactly what you're looking for. If you prefer premium stations, high definition and plenty of channels, cable or satellite might be up your alley. But there's an in-between option that offers all of these features and more—CenturyLink Prism TV.
Instead of a satellite dish attached to your house or a black cable cord running from your TV to a wall outlet, Prism TV uses an advanced fiber optic network, resulting in faster speed (no lag time between switching channels) and enhanced picture quality. It's the next generation of TV. Regrettably, Prism TV isn't available everywhere—at least not yet. But if it's an option where you live, here are 5 reasons you'll love Prism.
More Bang for Your Buck
Who doesn't love a bargain? The cost of cable quickly adds up once you include premium services and other packaged upgrades. Prism TV, on the other hand, has affordable options for just about everyone. It's not as cheap as streaming services like Hulu or Netflix, but it also won't hit your pocket as hard as some cable packages. Prism has four packages to choose from: Essential, Complete, Preferred and Premium. Promotional rates for the first 24 months range from $69.99 to $124.99.
Whole House DVR
Many cable and satellite providers offer whole house DVR. The difference with Prism TV is that CenturyLink includes this feature with all its packages, so it's not something you receive for an additional fee.
But what exactly does whole house DVR entail? Basically, you can watch and record shows on every TV in the house using a single DVR. Pause live programs in one room and resume watching the program in another. Or record several programs at once and manage your DVR from anywhere. If you leave the house and forget to set a recording, no problem. Open the Prism TV app on your electronic device and schedule a recording from any location.
Wireless Set Top Box
If you have cable, then you are familiar with set top boxes positioned next to the television. Typically, these boxes connect to a cable wall outlet and the TV. And ordinarily, if you don't have a cable wall outlet in a particular room, you can't access cable in this room. This is how Prism TV changes the game.
This TV service is unlike any other service because it offers wireless set top boxes. Move the box to any location in your home and access cable as long as there's a television and an Internet connection. Watch television in your garage, basement, backyard, etc. There's no need to run cables to these areas.
Prism on the Go
When you subscribe to Prism TV, you're not restricted to watching TV in your house. Your subscription lets you watch channels from any device, anywhere. Whether you're waiting at the doctor's office, sitting in an airport or relaxing on your lunch break, you're never far from your favorite programs. There's also Prism on-Demand. The "Find-It-Fast" navigation feature lets you search content by actor, director or title.
Multi-view Screen
Many cable providers don't offer a feature for viewing multiple shows at once. If your favorite shows air at the same time, there's the option of watching one and DVRing the others. But depending on the event—such as a football game—you might enjoy the luxury of viewing multiple channel simultaneously. This isn't a problem with Prism TV. With Prism, you can watch up to four shows on the screen at once.
TV services are constantly changing. With so many new and improved viewing options becoming available, there's a provider offering exactly what you're looking for. If CenturyLink's Prism TV is available in your area, give it a try and experience the difference for yourself. And if it isn't available, give it some time. The service might be coming to a city near you.