Everything Outdoor Entertainment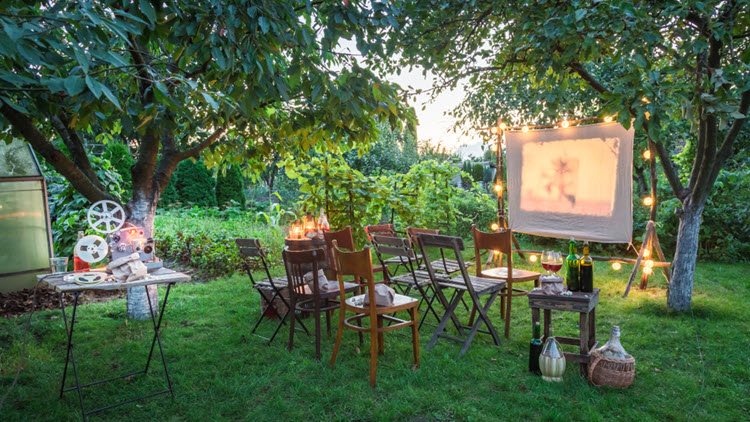 There isn't anything quite like mixing your favorite movie stars with the actual stars. Whether you're in the city or the suburbs, there are ways to bring the magic outside. With Fall just around the corner, it's the perfect opportunity to cozy up outside and watch a good movie.
Setting Up Audio & Visuals
Before we purge, we plan. What is this space for? What kind of entertainment do you want to provide? Entertainment can be incredibly versatile. While some may want to just relax by the pool with their favorite music hits playing in the background, some may want to completely bring their backyard to life. Most systems can do both! With the audio connected to any TV or projectors you have outside, no doubt you'll be able to enjoy perfectly tuned sound while you watch your favorite film.
Similar to any audio system set-ups, you'll be able to choose from a variety of speaker styles. What's great about outdoor entertainment is how well manufacturers make their products invisible. If you're concerned about having large speakers distracting from your landscaping, lucky for you, a lot of speakers are designed to blend into the foliage or look like landscape lights, rocks, or flower pots.
Regarding the visuals, you'll have two options: a television or a projector with a screen. Luckily, many brands understand the appeal to outdoor entertainment and include features just for that. The screens are much brighter and created with an anti-glare coating to the best visual quality no matter how bright the sun is. Televisions are also designed to withstand harsh weather such as heat, water, dirt, and wind.
Projector VS Outdoor Television
If you're the hosting type, an outdoor theater system set up with a projector and screen may be more accommodating for larger groups. Anyway, who doesn't love a good ol' fashioned movie night? As a viewer, you have the choice of either purchasing a pre-made screen or going ahead with a DIY project. For the self-made screen, you'll sew together one or two thick white King size ironed bed sheets with white thread. A pre-made screen, of course, will provide a better-projected image though, due to its more reflective surface. When going with a pre-made screen, the trick is to purchase one slightly larger than you think you need as this will give you more flexibility in setting up both projector distance and desirable size of the projected image.
Projecting your films against a wall is also an option, but the wall will most likely need painting as it needs to be white as well as reflective enough to support a bright image.
In order to actually watch a movie with your projector and television, you'll need a source such as a DVD or Blu-ray player. Keep in mind though, the larger screen you have, the more upscaling DVD player you will want to keep the image optimal for viewing. You have the option of buying one specifically for this purpose, with most upscaling DVD players priced under $60. Another option is using a portable DVD player or laptop computer with a DVD drive that also has a video monitor output for a video projector.
Details, Details
Lastly are the details that definitely matter. Remember that you'll need physical support for all of your devices, from the TV or projector to the DVD player. A TV stand or mobile rack makes it easy to move and adjust the central parts of your backyard home theater system. The TV stand or mobile rack will need to be some type of storage or organization furniture that has shelves or space to house your components. For best set up, place the amplifier and DVD player on the lower shelves and the video projector on top. Building your own is an option, as well as buying one at a local electronics dealer or home improvement center.
Remember that in order for everything to work, you will need a very long heavy-duty extension cord and a three to a four-outlet surge suppressor. Experts recommend getting a twenty-five to thirty-foot heavy-duty type power cord. If you have more outside power outlets along the house exterior or at key points in your backyard, you may be able to get away with a shorter one.