Getting the Most Out of Your Apple TV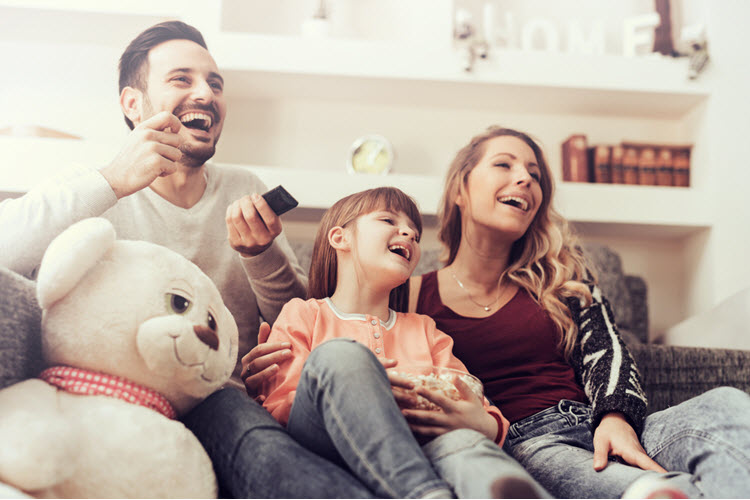 Apple outdoes themselves again, bringing you your favorite TV shows and music to all of your devices. We've all heard of the Apple TV and a few of its functions, but what really is Apple's signature microconsole, and how does it work?
What is it?
In short, Apple TV is an HDMI-compliant, digital media player. The device can be connected to either an enhanced-definition or high-definition widescreen television. The Apple TV can be easily controlled with its remote or its Bluetooth and casting capabilities, making it much more convenient to stream. Wi-Fi is also a large part of its functionality, allowing its users to connect to a variety of apps and websites. Now, you can access your tvOS iTunes store, Netflix, a variety of news and sports channels, Pandora, DirecTV, and much more.
TV Features
Video Streaming
The main function of Apple TV is its ability to stream video through the internet. On the iTunes store, enjoy countless opportunities to buy or rent, or stream video from a variety of services, found in the app store, such as Hulu, Amazon Prime Video, YouTube, Netflix, DirecTV Now, Vimeo, Showtime, and HBO Now.
Live and on-demand content are also available to users from apps that support login through cable providers via one universal app called TV. TV unifies all content into one central application that allows users to watch anything, anywhere. These include your trusted news and weather stations like ABC and CBS, as well as sports channels like the NBA, NFL, and WatchESPN. Also available are common favorites such as the History Channel, Food Network, HGTV, Disney, National Geographic, and many others. The upcoming single-sign-on feature in tvOS 10.1 will allow users to log into all of these apps at once. You'll never have to worry about having to go through verification for each sign in.
Music & Podcast Streaming
Love your music? Apple TV allows music and podcast libraries to be accessed through iCloud, through the Music and Podcasts apps. Users also have the option to subscribe to several music and podcast streaming services such as Apple Music, Pandora, Quello, and iHeartRadio.
Apps & Games
Now, with the fourth generation Apple TV and those progressing it, users can download apps and games from the tvOS App Store. Similar to the store on the Apple iPad and iPhone, the tvOS App Store contains headings such as Featured, Top Charts, Categories, Purchased, and Search to easily find all of the apps you need to get the most out of your experience. With Apple TV's Siri remote and Apple's new External Bluetooth Game controllers, gaming apps can be easily downloaded and played, such as the popular driving game, Asphalt 8: Airborne.
Casting & Mirroring
Sharing the content on your iPhone or iPad screen has never been easier! With AirPlay, streaming and mirroring content from your iOS or Mac device wirelessly. Simply swipe up the control center from your iOS device, or in the Menu Bar on Mac to allow users to wirelessly send video or audio from their alternative Apple device to the Apple TV, wirelessly mirror their Mac screen or AirPlay device to utilize the TV as a second monitor, and use Bluetooth to connect Peer-to-Peer AirPlay if the Apple TV and the iOS Device/Mac are not on the same Wi-Fi network.
Siri
A voice assistant on many Apple devices, Siri is also available on tvOS allowing users to verify the weather, stocks, sports scores. Siri also allows you to search for content across a multitude of different applications, and voice dictation is capable of being used in text fields.
HomeKit
The third-generation Apple TV and later can also be used as an HQ to all of your HomeKit devices including locks, thermostats, or garage doors, in one's home, either locally or over the Internet. With the fourth generation Apple TV, automatic implementation of scenes is also possible.
User Accessibility
Due to it being based on tvOS and watchOS, which have many of the same accessibility features of iOS and macOS, Apple TV is compatible with Apple's entire product line. This could mean using your iPhone or even your Apple Watch as a universal remote. Apple's screen reader, Voiceover, is available in over 30 languages, allowing the visually impaired to know what's on their screen and allows responses to on-screen prompts. Zoom and Siri also help the blind and those with poor vision, as tvOS enables users to watch movies with audio descriptions of what's being shown on the screen.
New Releases
Apple TV App
How would it feel to have everything in one place, and never having to jump in and out of individual apps? Pretty great. Now with your shows and apps working seamlessly across all Apple devices, keep track of what you are watching by picking up where you left off, having access to your handpicked recommendations, and staying up-to-date on all live sports and news.
Apple TV 4K & Dolby Atmos
You won't want to miss the Apple TV updates this fall. Get on board with Apple, the first streaming player to be Dolby Vision and Dolby Atmos certified, and watch all of your favorite dramas, comedies, and action-packed shows in 4K HDR. These pictures are much crisper (four times, in fact) as regular High Definition, and with Dolby Atmos, your audio turns 3-dimensional, directing sound around and above you with the utmost precision. Just be sure your television supports HDR10 or Dolby Vision at 60Hz (50Hz in Europe).
Apple TV 4K is built to take full advantage of 4K HDR, so users can enjoy TV in the highest quality available. The following 4K display formats are supported by Apple TV 4K:
4K Standard Dynamic Range (SDR): Used for 4K televisions not supporting HDR10 or Dolby Vision.
4K High Dynamic Range (HDR): Used for 4K televisions that support HDR to display video with a broader range of colors and luminance.
4K Dolby Vision: Used for 4K televisions that support Dolby Vision HDR to display video with a broader range of colors and luminance optimized for users TV.
Written by Chloe Loveland