Great TV Antennas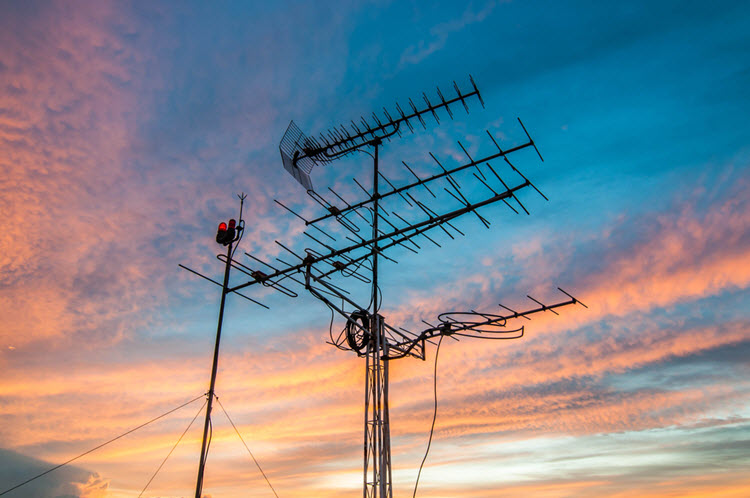 Purchasing an antenna is a great way to join the cord-cutters and keep things simple. Rather than using a satellite or internet connection, a TV antenna is a set of wires that pick up signals broadcasted by television networks. The TV antenna receives the signal and then converts that signal into audio and video signals that display on the television to display your selected program or channel.
It is a much simpler option as antennas only pick up local stations and the major broadcast networks like ABC, NBC, and CBS. How many stations or channels available to you depends solely on where you live, but over 80% of those in the U.S. live where they can pick up at least a few stations, due to the major networks transmitting in every major city across the country. To receive more channels, you'll just need to purchase an outside antenna.
Now that TV stations are all digital, HD channels can now be broadcast over the air. It may seem strange, but an HD antenna actually provides a slightly better image quality than cable or satellite. Combined with a streaming subscription or two, this will give you a ton of options on demand, as well as access to your local channels. There have been plenty of great options for antennas in 2018, so we'll go ahead and list several.
AmazonBasics Ultra-Thin Antenna
An excellent value for the price, the AmazonBasics is amplified to a 50-mile range, as is easy to set up and use. The ultra-thin antenna is boosted by the USB cable or power adapter to provide a strong range, pulling in more than 50 channels in a nice 1080p HD. It's very simple and only $25, even coming with pins and velcro dots to place it on your wall. It is a solid indoor HDTV antenna, but your mileage may vary, depending on your proximity to your local towers.
Winegard FlatWave FL-5000 Digital Indoor HDTV Antenna
Designed to be simple and easily placed, this antenna will be out of sight, out of mind. Winegard's amplified FlatWave FL5500A antenna is extremely similar to the AmazonBasics model listed. It offers a 50-mile range, is flat and nearly paper-thin, and delivers a strong 1080p signal. In testings, just over 50 channels were reached in a few locations. The original model has a 30-mile range and does not include an amplifier, but receives UHF/VHF channels and is 4K ready.
The only complaint would be the higher price compared to the AmazonBasics. It seems to offer the same content and similar quality but at almost double the price of its competitor model.
Mohu Leaf TV Antenna
This indoor antenna with a 30-mile range may not have an extended range, but it does include many personalized features that make it worth checking out. The Mohu antenna is made from paper-thin materials and follows the flat rectangle–style indoor HDTV antenna trend, making it a popular choice for cord-cutters. It blends in easily with your interior style and can even be painted a different color.
The antenna is multidirectional, meaning it is reversible in order to help you get as many channels on your TV as possible. 1080p HD is broadcasted to your television at no additional cost. The 10′ plug that comes in the box is detachable; however, the amplifier is included with this model of antenna. With just under 100 channels on initial testings and closer to 110 on the second, reception remained good and consistent, though some of the 720p/1080i major stations did drop out for a moment here and there.
1byone Thin and Shiny Indoor HDTV Antenna
The 1byOne Super Thin antenna offers an incredible performance for its low price, receiving severals upon severals of stations at a high quality of 1080p. The 35-miler holds its own against much more expensive models, and you can see the generally positive user reviews to confirm. Its transparent design makes it friendly for walls and windows, and its 20-foot cable allows it to easily adapt to any room. Compared to other inexpensive antennas like the AmazonBasics model, the 1byOne 35-miler was more reliable in pulling in major network channels.
There is also an option to upgrade to the 50-mile for extra perks such as longer 20′ cable and an increased mile radius of 50. The antenna also includes an amplifier that allows you to switch signal strength on and off. When turned on, additional channels may be available.
ClearStream 2V Indoor/Outdoor HDTV Antenna
If you're looking for a more versatile antenna, the ClearStream 2V is a great option to look at. With a 60-mile range, this all-weather antenna can be placed indoors or outdoors depending on your proximity to broadcasters. For those who aren't near major broadcasters, live in suburban and rural areas, or those with homes with large obstructions like trees and buildings may need this type of antenna due to its ability to pull a rock-solid reception through a relatively wide range of angles.
The antenna's dipoles can extend up to 35" to improve the broadcast signal, and its circular design is an effort to eliminate the need to rotate the antenna for better reception. The antenna is 1080 and 4K ready, with both indoor and outdoor mounts are included. The only additional purchase you'll need to make is a high-performance coaxial cable for installation.