How to Prevent TV Tip-Over Accidents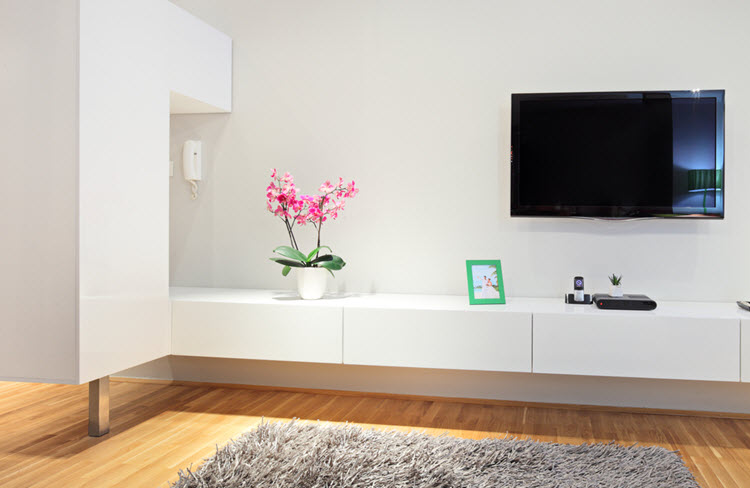 When you purchase a new television for your home, you might imagine your family spending countless hours watching movies together and enjoying your favorite weekly programs. The idea of the TV being a danger to your children might never enter your mind. But according to Safe Kids Worldwide, a child dies from a television tip-over accident every three weeks, and every hour a child goes to the emergency room because of a TV tip-over.
This is a hazard most parents don't think about, but one that can happen to any child. With that being said, make sure you take measures to prevent tip-overs and keep your children safe.
1. Choose an appropriate TV stand.
You might be tempted to use an existing stand after purchasing a new TV, so you don't have to spend extra money. However, your current stand may no longer be suitable when purchasing a much larger-sized TV. Even if the new television can fit on the stand, it might be too long for its length, making it less stable. Any instability increases the chance of the television tipping over, especially if the TV legs are too close to the stand's edges. A child could accidentally bump into the stand causing it to fall over.
You can also prevent tip-overs by placing the set on furniture designed to hold a television, such as a dresser. Don't put televisions on other items like boxes or crates. As an extra precaution, sit the TV as far back on the stand as possible.
2. Don't purchase TV stands with drawers.
To help protect smaller children from TV tip-over accidents, look for TV stands that don't have drawers. Drawers can tempt little children who might climb the TV stand to retrieve a remote control or a toy. The weight of a child standing in a drawer can be too much to keep the stand steady, causing the entire console to tip over.
3. Mount the TV on the wall.
Mounting your television on a wall is another way to reduce the likelihood of a TV tip-over. Wall brackets secure the TV in place, and mounting is relatively inexpensive. Purchase a DIY wall mounting kit from an electronics store. Or if you don't feel comfortable mounting the TV yourself, use a professional to ensure it's done properly.
4. Use anti-tip straps.
Mounting a television on the wall involves drilling holes and using brackets, which damages the wall. If you'd rather keep the TV on a stand, purchase anti-tip straps. You can find these at many  electronic stores or online. The straps connect the TV to the stand, keeping it safe and secure.
Purchase straps for all TVs in the home, especially those located in your children's bedrooms. Since this is where they spend most of their time playing, they're more likely to bump into furniture in these rooms.
5. Talk to kids and head off accidents.
Even if you take the above measures, accidents can still happen. So it's important to have a conversation with your children and teach them not to climb TV stands, or play around a large television set. Also, teach your children not to pull or yank on any cords coming from the television set. If you have climbers in the house, it might be safer to keep TVs out of their rooms until they're older.
TV tip-over accidents can cause serious injury to children. But you can keep your family safe by taking proper measures and making sure your television sets are properly anchored and positioned in a safe location.