Live Streaming, No Storage Limits, and More? Sign Us Up!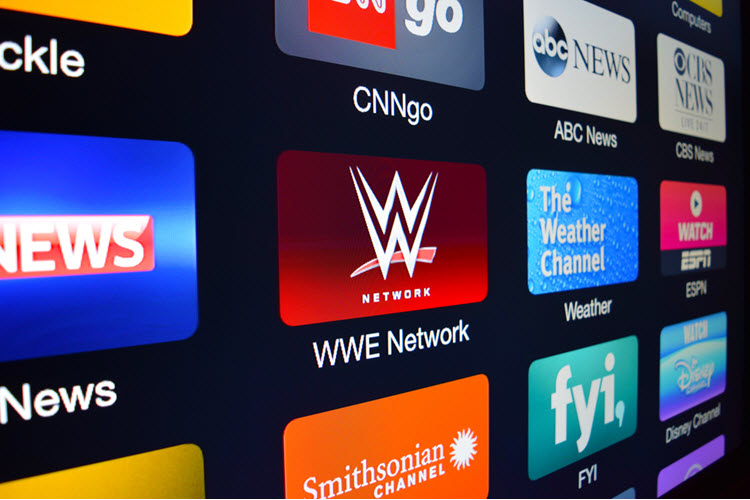 It seems to be the era of streaming and on-demand. With a large variety of choice entertainment available at the touch of our fingertips, companies are implementing new ways to gain your business. The biggest efforts of today are streaming companies ability to implement live television, so you can get the most recent sports and news feeds. Here are a few to keep an eye on if you've been looking for possible cable alternatives.
PS Vue
Starting at $40 a month, PlayStation Vue has at least 50 different channels to choose from. Based on a tier system, as the viewer, you can choose from their Access, Core, Elite, and Ultra packages. The biggest absences from this streaming company are Comedy Central, MTV, and Nickelodeon due to Sony dropping their partnership with Viacom. However, Vue is the leading competitor in obtaining access to local networks nationwide.
A lot of your accessibility and streaming ability will depend on where you live, so keep that in mind. CBS, ABC, Fox, and NBC live are definitely limited to specific markets, and most will only have access to shows from a few larger networks, a day or more after they air. The amount you get live may be limited, and in some areas, CBS is completely unavailable.
Most large networks and programs are available as add-ons or on specific tiers, such as ESPN, ESPN 2, Fox, NBC, MLB, and HBO. DVR is also available, but with a few restrictions. Any show is capable of being recorded on the cloud, but it only saves up to 28 days after the show is aired. On the other hand, Vue allows you to pause and rewind more channels than any other competitors. The biggest edge Vue holds against its peers is its multi-view option, allowing you to watch up to 3 simultaneous streams on the same PS4. Overall, Vue is great for families with different show preferences and who require specific local channels.
Sling
Sling comes in as the most cost-effective, starting at just $20 a month for 29 select channels, a DVR add-on available, and on-demand access. For an extra $5 ($25 a month), you get a channel upgrade. There's really something for everyone here, so I would take a look at their product page¹ to compare packages that fit your needed viewing experience.
The $25 package includes live streams of Fox, NBC, and NFL and offers Univision, a broadcast TV network for Spanish-speaking audiences. Basic football fans will enjoy the affordable price they get from watching their favorite teams, but for those who keep track of a wide variety of sports, Sling TV also offers an upgrade with their NBA League Pass at $29 a month, allowing basketball fans to watch games they'd normally miss that aren't broadcasted in their local market. Subscribers also have the option to pay an extra $18 a month for the Team Pass, which includes live regular season games, game replays, and audio broadcasts for a single, select out-of-market team.
The largest downside is Sling's inability to stream on multiple devices. Currently, the program is only able to have one active stream going at a time. Sling's selling point? Their flexibility. When it comes to choosing a package, Sling has, by far, the best ability to personalize your network, which helps in making it so affordable.
YouTube
Having grown the most regarding broadcasting, YouTube TV includes a large variety, if not all, of the major broadcast networks. YouTube TV or Hulu with Live TV is probably the best choice if you're interested in completely replacing your cable service. With around 60 channels as well as any YouTube original shows that come with YouTube's Red Subscription, YouTube offers all of the major broadcast networks to each market it's available in. The big four are all available to watch live as well; although, there are no Viacom channels (Comedy Central, MTV, Nickelodeon), Discovery channels, or A&E. Like Sling TV, YouTube TV includes programming for their Spanish-speaking audience, Telemundo.
What really sets YouTube apart in their TV service is their sports networks access, recently adding March Madness, MLB Postseason games, national NBA games, NBA All-Star weekend events, NBA Playoff games, the PGA Championship, and UEFA soccer. Unlike its competitors, YouTube offers CBS Sports.
No one can compete with YouTube's storage capabilities. YouTube TV includes a cloud-based DVR service with an unlimited amount of storage, and they save your recordings for up to 9 months. Pause and rewind are available, and YouTube includes a select number of shows available on-demand and on replay recordings. The smaller selection may not be for everyone, but the amount of supported devices is definitely turning the market in their favor.
Hulu
With over 50 channels available for live streaming, Hulu is definitely one of the top in the game, but it's also one of the pricier options at $40 a month. Granted, Hulu is able to charge this much due to the simple and easy-to-follow interface. Also included is their original streaming service into their Live TV package, saving you an extra subscription. Yep! That means no more switching between apps. Simply go from surfing live channels to watching a rerun of Grey's Anatomy.
While Hulu is the newbie in the live TV service market, its support for the major local broadcast networks is definitely something to give it credit for. It's still lacking compared to Vue, which carries the most variety, but you have a better chance of getting live local channels here than with Sling or YouTube.
DVR is also included with 50 hours of recording time, and just to make things better, your recordings don't expire. There is an Enhanced Cloud DVR add-on that raises your limit to 200 hours of storage time for an extra $15 a month if you're interested in more storage.
In a recent press release, Hulu announced the upcoming ability to download shows for offline viewing. Their offline viewing experience is scheduled to take place during the 2018-19 TV season, but they could begin to implement it as early as this summer. All around, despite having a few add-on costs for additional features, Hulu is really the only service that confidently blends live TV with streaming, on-demand content.
Written by Chloe Loveland