New Innovations in Cable and Satellite TV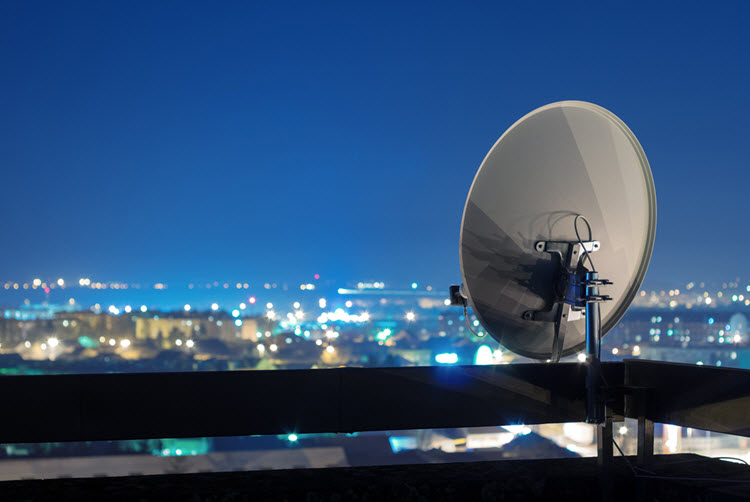 Times they are a changin', especially for cable and Satellite TV. From flat satellite antennas and live streaming in vehicles to the disappearance of set-top boxes, the world of entertainment is experiencing a tech overhaul that will change the way we watch, learn and play.
Satellite Antennas Going Flat
The dish is being flattened by a company called Kymeta who recently announced that the mTennau7 would soon replace the parabolic dish antennas we see scattered across the world's rooftops. The newly designed electronically scanned satellite antennas have been engineered to perform across both mobile and fixed platforms.
The new mTennau7 and KyWay terminal replace existing satellite dish technology. Light and thin, the antenna is electronically steered toward satellites and uniquely designed for mobile communications. Together with the new terminal technology, the flat antenna will finally allow the vast satellite pipeline to serve the mobile communications market. It's about time high throughput met high mobility. A boon to maritime, rail, and Civilian Armored Vehicles (CAV), as well as energy and VIP markets, the applications for Kymeta technology are expected to significantly impact satellite and communications industries.
Expanding satellite connectivity into new markets is key in today's increasingly mobile world. Kymeta's mTenna technology is efficiently housed in a low profile, lightweight, small footprint package. The meta-materials featured in the Ku-band antenna bring a number of advanced features to the fore. Features like electronic RF beam-steering available in either auto or manual modes. Users can select polarization and angle control without moving any parts. The system uses a standardized application-programming interface (API) to achieve satellite auto-acquisition and tracking. The mTenna's flat radome does away with the historically bulky radome, which makes for a lighter less complex antenna, one that's more easily installed and maintained. Finally, the system achieves both transmit and receive functions using a single aperture to reduce power consumption.
Live Cable/Satellite TV takes a Back Seat
Today's cars and SUVs are turning into high tech marvels that will soon rival home entertainment systems. Vehicles like the 2018 Ford Expedition will feature rear-seat entertainment systems capable of streaming live cable or satellite TV. Employing SlingPlayers and 8-inch video screens embedded in headrests, passengers will no longer be bored on long trips. Connected through the owner's Slingbox account, users will be able to play their favorite live or recorded shows directly to the vehicle's backseat. These vehicles will feature Wi-Fi hotspots that support multiple devices simultaneously from outside the vehicle.
Equipping vehicles with wireless satellite and cable entertainment answers a growing need among consumers to provide streaming entertainment while on the road. Passengers, especially restless children, want to be entertained on long trips with more than "I Spy" see-say games. They (and their parents) want to keep them occupied with their favorite TV shows, movies, music, podcasts and interactive games. Generation Z and millennials are equally eager for on-the-road entertainment and would love to have music streaming from their rear-seat speakers during those long trips to the ski slopes.
Bye-Bye Box
Industry observers have predicted the demise of set-top boxes for some time. Cable, satellite, fiber and other regulated providers were recently instructed by the FCC to adopt new technical mandates that open all set-top boxes to third-party use and new providers. New standards will allow third parties to tie directly into the video streams, signaling the eventual demise of the cable box.  This change stems from the quick move by pay-TV providers to embrace internet standards for both services and video content. Needless to say, consumers are not too shy about their love for the growing number of internet-based alternatives—like Amazon, HBO, Google, Apple, Netflix, YouTube, SlingTV, Hulu, Sony, and more. Comcast's new program, for example, grants manufacturers of smart TVs and other internet-based video services unbridled access to a consumer's cable programming without a set-top box.  Content streams straight to the third-party device as an app.