Smart TV vs Firestick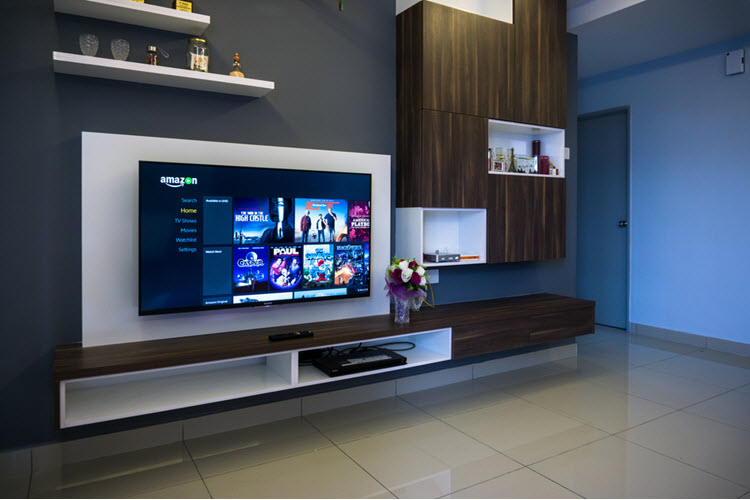 As the world continues to evolve, as does TV. We have never had as many options as we do right now, and more alternatives to cable continue to enter our stores. With so many options, it can be difficult to make a decision, so we're here to help.
A great place to start is to figure out if it would be in your best interest to purchase a Smart TV or some other media streaming device. I've gotten so many questions about Amazon's Firestick, so we're going to use that specific product as a comparison.
What is a Smart TV? What's a media streaming device?
A Smart TV incorporates an operating system allowing you to access, manage, and view online and network-based media content without the need to connect to an additional box. Those with a Smart TV can access online content by connecting to the same Ethernet or Wi-Fi connection that you use to connect all of your other devices to the internet.
The second of two streaming options by Amazon, The Amazon Fire Stick is a small device with the size and looks of a flash drive that plugs into a TV's HDMI port, enabling any TV to stream content over WiFi such as Netflix, YouTube, Hulu, Pandora, HBO Go, and much more. It really all depends on your streaming needs, but we'll go over the pros and cons of each product.
Smart TV
The Pros
Everything is in one place. Access to hundreds of "channels" offering TV programs, movies, music, without having to connect a TV antenna or subscribe to a cable/satellite service.
Additional features may be included. May provide web browsing and some gaming may be included.
Access your PC. Able to obtain access to compatible media content stored on your PC.
Share your screen. More multi-functions such as Miracast and Screen Sharing, allowing users to view content from compatible smartphones and tablets on their TV screens.
Smartphone compatible. Some smart TVs may even be able to send content from the TV to a compatible smartphone
Personalized selection. You will only be paying for the channels and content you actually want.
The Cons
Not everything is free. Although smart TV platforms allow access to many free channels and services, most do require either a monthly subscription or pay-per-view fee.
It may cost as much as or more than regular cable. When adding up additional costs and charges, you could end up spending as much, or more, than a monthly cable/satellite bill
You may need to purchase additional service products anyway. The brand/model smart TV determines what services and features you have access to, so while many smart TVs are compatible with popular services (i.e. Netflix, Hulu, Vudu, Pandora), there may be additional apps and services you would like that aren't accepted on some Smart TV platforms. Depending on the required amount, you may also have to upgrade your bandwidth for your Smart TV to be compatible.
Privacy issues may be a concern. Most people know Smart TVs and/or the content app providers (i.e. Netflix, Hulu, etc) usually track your viewing habits in order to provide viewing suggestions. While it might be nice to save time searching for movies and TV shows, Smart TVs may be tracking more than your movie habits. If your smart TV has a webcam or voice control, there is a possibility that hackers can break in and see or hear you. Any credit card purchases you make using your TV may also be trackable by third parties, so always be cautious with your online purchases.
Amazon's Firestick
The Pros
Easy Set-Up. With an on-screen guide and simple navigation, setting up your Firestick is incredibly fast and easy.
Fast Streaming Content. The latest, upgraded Amazon Fire TV Stick comes with streaming speeds that are 30% faster than in the previous version.
Budget Friendly. For less than $50, you'll essentially be able to transform your standard TV into a smart TV.
Integration with Amazon Prime. Existing Amazon Prime subscribers who enjoy streaming content from Amazon's online entertainment library are able to do so on their TV through the Fire Stick.
Compatible with Other Apps. Even if you've chosen a Netflix or Hulu account over Amazon Prime, these apps and many others are available to download, so you'll have access to all of your subscriptions.
Voice Search. One of the major complaints of the old Amazon Fire TV Stick was that it didn't include voice search, but Amazon has listened to its customers, so for the same price, you can now get voice search.
The Cons
Doesn't Include Live Shows/Channels. Although services such as Netflix and Hulu are readily available to stream previously released TV shows, you may need to wait a year to see the most recent episodes when the streaming services release them.
Less Convenient Search Abilities. Opposite to its competitor, Smart TVs, the Fire Stick requires each media streaming app to be downloaded individually, and search within them for movies or shows.
Separates 4K HDR and HD Versions of its Shows. Amazon keeps separate 4K HDR and HD versions of its shows, so if you don't pay attention and select a show's 4K (sometimes HDR) version from the menus, you may only be playing the HD/SDR version.
More Pushed Content. A majority of the home page is devoted to trailers advertising for specific content, whether partnered or from Amazon Video.
No Dolby Vision Support. Dolby Vision adds an extra layer of scene-by-scene information to the basic video core, helping compatible TVs deliver more lively and accurate HDR playback. Unlike the Apple TV 4K and Google Chromecast Ultra, the Amazon Fire TV doesn't support the Dolby Vision HDR system.
Conclusion
Depending on your preferences and based on the guidelines listed above, a Smart TV may, or may not, be the best choice for you. In this era, nearly every brand and product model offer some type of smart functionality to cater to your viewing preference, so a smart TV isn't the only way to add internet streaming and additional features to your viewing experience.
It's also good to keep in mind where the Wi-Fi is set up in the house. For example, if the Wi-Fi router is on the second floor and the smart TV is in the basement, the set may not be able to stream video from Netflix or YouTube without experiencing hiccups.
Next time you go out to purchase either a TV or media streaming device, be aware of variations in content access, additional subscription and costs, and any privacy issues. When searching for a TV learn about the typical specs such as picture quality, sound quality, and physical connectivity. The great part about technology now is the personalization it is capable of catering to. Ultimately, it's up to you and your family's personal preference; there's something for everyone.
For more info on streaming devices, check our articles on different streaming services and devices!
Written by Chloe Loveland