The Ultimate Home Theater Setup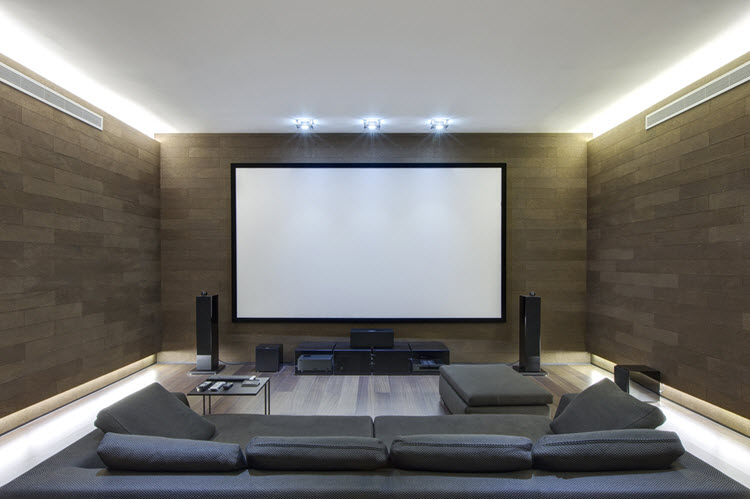 Plenty of people dream of having their own home theater, and we can see why. Creating a similar atmosphere as the movie theaters in the comfort of your own home? What could be better? For those who seriously consider it though, or are actually looking to set their own up, figuring out the technicalities of it all can be frustrating. We're here to break it down, so having your own home theater can become a reality.
TV
The heart of all home theaters is the television. What else will bring your house to life, turning your living room into a jungle or futuristic era? This is what brings you that breathtaking viewer experience, so it's important your TV has the essential visual capabilities. Pretty much any LED or OLED TV will work for your set-up, and many are able to produce images in 4K Ultra HD. Smaller screens producing 720p or 1080p images should do just fine, but if your TV is any larger, we definitely recommend that 4k Ultra for an even greater boost.
Home Theater Receiver (aka AV or Surround Sound Receiver)
If the TV is the heart of home theaters, the Home Theater Receiver is the brain. Definitely one of the most important devices for home theater setups, the AV receiver in a home theater acts the same as a receiver and amplifier assembly in any stereo system. Once receiving signal from a variety of your input devices (i.e. VCR, DVD player, or satellite dish), the AV receiver interprets and reproduces those signals and sends them to your output devices, like the TV and/or sound system.
You definitely have your pick of audio/video receivers, as there is a variety available. A lot of companies will include all of the speakers you need with the receiver to help you in completing your home theater system. These systems may run from $250 to $2,500.
One of the most important differences between audio/video receiver models is what surround-sound formats they support, so be sure to read the manual.
Antenna, Cable, or Satellite Box
If you're a lover of sports and loyal to your news, you'll need to decide how you'll be getting your regular programming, a few to choose from being by antenna, cable, or satellite. Depending on which you choose, it's a great idea to include a DVR if it's an option, so you can record and go back to rewatch your favorite shows. Only cable and satellite will be able to offer this, but going with an antenna is typically a lot cheaper of an option.
A Movie/Audio Player Compatible with Ultra HD Discs, Blu-ray Discs, DVDs, CDs, and/or VHS
If anything, you'll want to be able to play those DVDs. Going for a Blu-ray player is a great buy for this, as you'll be able to watch DVDs on much higher quality devices, ultimately enhancing your experience. If you're an overachiever, we recommend stepping it up a notch with an Ulta HD Player.
Ultra HD Blu-ray Disc players are capable of not only playing Blu-rays and DVDs but will actually provide 4K upscaling so that they look incredible. You also won't have to worry about purchasing a CD or audio player because they're able to play audio CDs as well.
If you still have some old movies you enjoy watching, a VCR will be a great addition as well to the setup. We recommend also purchasing a VHS tape rewinder will save you a ton of time after finishing a movie.
Media Streamer
A media streaming subscription seems to be a requirement of living in the twenty-first century, and while it isn't really a requirement, we see why it's so popular. Internet streaming through a television may look different for each person, but the most common use is video streaming.
You'll need to decide whether or not you'll subscribe to a media streaming service like Netflix, Hulu, PlayStation Vue, Sling, HBO, and many many more. If you aren't a fan of holding onto movies or don't mind waiting for your favorite TV shows, this is a great alternative or add-on to your original TV service.
Loudspeakers
The number needed for your theater really depends on the speaker layout; although, there are preferably 4-5 speakers. The size and type of room you have your set up in really dictates the type you'll need.
A great option to check the quality before completely setting it up is to listen to several types of speakers and setups. It's also a good idea to stick with the same brand and model speakers to ensure better acoustical synergy.
You will specifically need a subwoofer. Also a speaker, a subwoofer reproduces the extreme low frequencies present in movies or music. It's by far a specialized speaker, and the only one that can achieve this, so it's an important additive. You can also participate in listening tests, and there are a variety of subwoofers to help your theater room-type specifically.
Connection Cables and Speaker Wire
None of this would be possible without the cables and wires, but the type of connection matters. Quality varies between basic connection cables and speaker wires and the pricier stuff, but what really counts is using the right type, right length, and to connect everything correctly.
Things to Think About
We just went through a lot, but to finish this off, we'll go over a few more tips for you to keep in mind when making your purchases.
Is the room carpeted or not carpeted? This will 100% affect how sound is distributed throughout the listening area, so knowing this will allow you to choose speakers that work for your home.
Will you be placing speakers within the room, or on the wall or ceiling, and where will you be sitting in relation to the TV screen? This will determine the optimal screen size and layout of your entire home theater. It will also affect where your speakers go, again affecting the sound.
What internet provider and speed do you have? For smart TVs, media streamers, and other internet streaming, the internet provider and speed you have can affect your entire viewing experience. For optimal viewing, you'll at least need 10mbps.
Written by Chloe Loveland