We Just Compared the Top Media Streamers, Here's What We Found…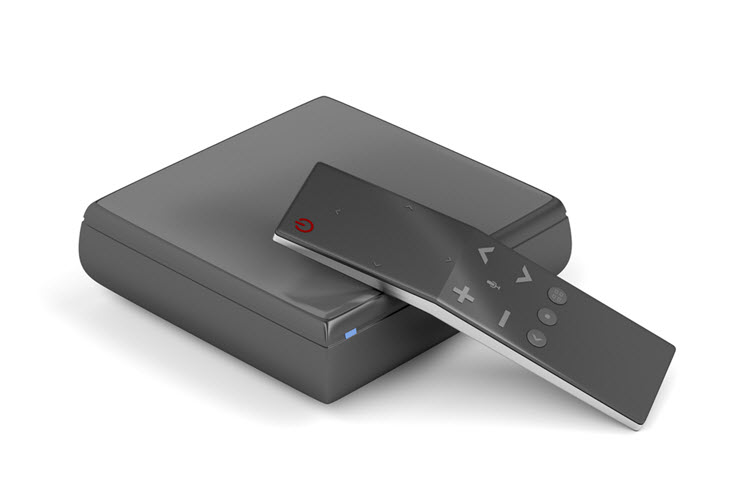 In a world of on-demand overload, it can be difficult to decide which company and model to go with. That's why we went ahead and did the research for you. After gathering some of the top features from the top media streamers, here's what we found…
Amazon Firestick ($39.99)
Let's start with the basic specs on this powerful USB. Most of the media streamers out there are small, being built to be taken on the go, but the Amazon Firestick is an entirely different kind of small. Actually the size of a USB, the Firestick weighs a minimum of 1.1 oz, but that doesn't stop its ability to hold 8GB of internal storage. It is compatible with high-definition TVs with HDMI capable of 1080p or 720p at 60/50Hz, and can connect to both dual-band and dual-antenna Wi-Fi. Your Firestick purchase also comes with the Alexa Voice Remote.
The Alexa Voice Remote comes with benefits of its own including launch and control content. Ready to sit down and watch New Girl, or want to find something new on Netflix? Simply say, "Play New Girl" or "Launch Netflix" and Alexa will immediately respond. Alexa can also help you play music, find movie showtimes, order a pizza, and much more. The Amazon Echo device is also a great add-on to pair with the Firestick. You won't even need the remote! Let Alexa help you find what you're looking for, all you have to do is ask.
You'll never get bored with the Amazon Firestick and its access to over 190 channels and apps and over 500,000 movies and TV episodes from Netflix, Prime Video, Hulu, HBO, SHOWTIME, NBC, and more. As live TV begins making a headway into the media streaming world, you'll be able to keep up on AMC, ESPN, FOX, and others with a subscription to DIRECTV NOW, Sling TV, or top-rated shows with CBS All Access, or use an indoor HD antenna connected directly to your TV to get broadcast networks like NBC and PBS for free. And because this is one of Amazon's own products, Amazon Prime is integrated well into this streaming device. With your membership, unlock thousands of movies and TV episodes, including Thursday Night Football, Amazon Original Series, and Prime Video Channels.
Like we mentioned briefly before, Alexa can help you find any of these things you're looking for including music and the internet. Access millions of websites such as YouTube, Facebook, and Quora with browsers like Silk and Firefox. The Amazon Firestick is meant to offer a great amount in a small package. The greatest aspect of this product, in particular, is the mobility of it. Plug Fire TV Stick into any TV's HDMI port, connect to Wi-Fi, and pick up where you left off. It's especially great when traveling with family, or if you're looking to unwind during a business trip. With a simple set up, mobility, and an awesome integration of Amazon Prime and other subscriptions, this little device is great for those on the go.
Google Chromecast Ultra ($69.00)
Up next, we have Google's latest contribution to the media streaming market. After ordering the product, you'll see that inside the box the Google Chromecast Ultra comes with the Chromecast Ultra (of course), a power cable, and a power adapter with an Ethernet port. It does need either a TV with an HDMI port, Wi-Fi network or Ethernet, or a Wi-Fi–enabled supported device and operates on Androids 4.2 and higher, iOS 9.1 and higher, Mac OS X 10.9 and higher, and Windows 7 and higher.
What really got me on the Ultra's specs though was the HD quality. The Chromecast Ultra produces a crisper picture, deeper color, and smoother video while it's streaming up to 4K content to a 4K TV. Here is the best part: Whether your TV is 4K or HD, the Ultra automatically optimizes content for the best picture quality possible. Even if your Wi-Fi network isn't capable of meeting the requirements to reach 4K, Chromecast Ultra has a built-in Ethernet adapter, so you can enjoy smooth streaming over a wired connection. 4K HD combined with its high-performance streaming with its 802.11ac (2.4GHz/5Ghz) 1×2 MISO Wi-Fi connectivity, you can count on a fast, reliable performance with minimal buffering and smooth streaming.
You've probably noticed, a remote wasn't included in the box. Don't worry! For your convenience, Google made your device the remote. Use your iPhone, iPad, Android device, or laptop to stream from hundreds upon hundreds of cast-enabled apps. Tap the Cast button to see content on the big screen, open apps you already know— no new downloads required, and keep using your device without interrupting what's playing or draining your battery.
Like the other streaming companies, you can search for apps like Netflix and YouTube, or browse over 200,000 TV shows and movies. Enjoy your options of over 20 million songs, games, and more. Discover a range of free, subscription-based, or paid content from thousands of apps. Like pairing the Amazon Firestick with the Amazon Echo device, pair your Chromecast Ultra with any Google Home device and stream entertainment just by asking. With over-the-top specs and a convenient remote (your own device!), this device is a great option for those who prioritize quality display for their content.
Apple TV, 4th Generation ($149.00)
Apple is known for creating media devices, from tablets to media players, so it's no surprise they have their hands in the media streaming market. They're one of the highest priced on the market, but there's a reason people are buying the Apple TV. Apple did announce they'll be releasing their latest model this fall, the Apple TV 4K with Dolby Atmos, but we went ahead and chose to highlight the latest available Apple media streamer.
The package you receive after ordering your Apple TV is the media box itself, a Siri Remote, a power cord, and a Lightning to USB cable. The device is compatible with an HDMI cable, HDTV 3, wired or wireless network, and/or broadband internet connection. With 32GB of storage and an HDMI 1.4 Connection and 802.11ac Wi‑Fi with MIMO, the Apple TV is top of its game.
Siri is integrated onto nearly all Apple devices, and the TV is no exception. In fact, Apple incorporates Siri into the Apple TV's remote. Siri is great whether you know what you are wanting to watch or not. Requests specifics like, "I want to watch the next episode of Westworld", or "I feel like watching a "70's movie" and Siri does the searching for you, presenting you with options without your having to click through multiple menus. You can even use the Siri Remote as a controller for the Apple TV games available on the App Store. The remote also includes Bluetooth 4.0 wireless technology, an IR transmitter, a Lightning connector for charging, and more. The rechargeable battery provides months of battery life on a single charge, and when charging is needed, you can just connect the remote to a computer system or power adapter via USB.
Apple has also worked to implement accessibility features, helping those with disabilities get the most out of their Apple TV by adding features such as voice over, zoom, increase contrast, reduce motion, closed caption and SDH support, accessibility shortcut, and much much more. With the Apple TV, everyone can get the most out of their streaming device.
Whether it's shows, movies, or games, all of it is readily available on the Apple TV. Enjoy content from iTunes and apps like Amazon Prime Video, Netflix, Hulu, and ESPN. Apps like Amazon Prime Video, Hulu, Netflix, HBO Now, Watch ESPN, and iTunes give you access to everything that entertains you — from blockbuster movies, TV shows, and live sports to breaking news and weather. Listen to songs from the Apple Music catalog or your personal music collection on the best speakers, and even mirror content pulled up from your other Apple devices.
The best part is the easy interface Apple offers. The TV app is one place to access shows, movies, music, games, and more from a variety of apps. The TV app gives you a unified viewing experience, letting you see all the movies and shows you're watching, from all the different apps you use. The app will give you recommendations and help you find upcoming episodes. If you're looking for a well-rounded, fully developed product to stream your shows and much more, this would be a great investment.
Written by Chloe Loveland