What You Should Know Before Subscribing to Netflix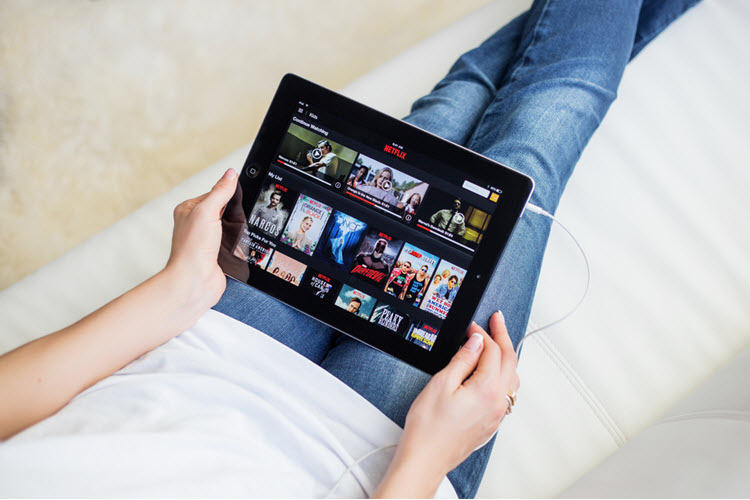 Netflix started as a DVD-by-mail company in 1997. For a monthly fee, subscribers could rent DVDs from the comfort of their homes and watch them anytime they wished. Ten years later, the service introduced streaming, which marked the beginning of the end for video rental stores. Now, Netflix is one of the biggest tech companies in the world with more than 60 million subscribers and over $8 billion in annual revenue.
If you've been relying on cable for movies or original content, you might be ready to make the switch—especially if you're looking to save money. Netflix could be the answer, but there are a few things you should know before you sign up.
1. You can watch on a variety of devices.
Not only can you stream content directly to your TV or mobile phone, as well as any internet-connected device, if you take advantage of Netflix's DVD-by-mail option (yes, it does still exist!), you can also order DVDs to watch whenever you want.
You can even access your Netflix subscription from a Wii, AppleTV, smart phone, tablet, PlayStation or smart TV.
2. Netflix's $7.99 is just a starting price.
Netflix advertises services for $7.99 a month, but this is only the starting price for basic service, which has its limits. A basic subscription gives you access to movies and TV shows in standard definition, but at this monthly rate, you can only stream on one device at a time. This may work for you, but if you have a family, the ability to stream on multiple devices simultaneously is a must.
Consider upgrading to the $9.99 monthly plan and stream on two devices at once, or upgrade to the $12.99 monthly plan and stream on up to four devices at once.
3. You don't receive a monthly bill.
Before subscribing to Netflix, keep in mind that you won't receive a monthly bill. To take advantage of a subscription, you'll have to provide either a credit card, debit card or bank account number, and give authorization to have payments automatically drafted from your account.
While some people prefer receiving a physical bill, auto payments are currently the only payment option. To ensure you don't forget about your Netflix payment, set a monthly reminder on your phone or computer.
4. Netflix doesn't have current seasons.
Beside movies, Netflix offers a huge library of series and sitcoms – sans the current seasons. If you want to catch up on current episodes, a subscription to Hulu or signing up with Sling TV may be a better option. Shows typically take about a year to provide Netflix with their most current offerings.
On the other hand, Netflix does offer full seasons of many classics (Golden Girls-athon, anyone?), so if there's a show from the past that you've never seen, Netflix offers the best binging experience.
5. Netflix adds and removes programs regularly.
If you're watching a series on Netflix, don't take too long finishing it! Unfortunately, the service does remove certain movies and TV programs from its library and add new ones, typically every month. Luckily, Netflix usually announces soon-to-be-deleted shows, allowing you just enough time to finish binging.
6. You can download shows for off-line viewing.
Netflix also has a feature that lets you download shows to watch off-line. This is only available on iOS and android devices, but it's the perfect feature for watching your content without Wifi, most helpful when you're on a long flight or in a hotel room without Wifi access. Download anything you've been wanting to watch and take it along wherever you go.
Keep in mind: downloading does use a lot of data, so download over a cellular or Wifi network and then you can keep the program or movie for up to 7 days.
Every entertainment service has its pros and cons. Weigh the pros and cons of Netflix carefully before you commit, and if you aren't convinced Netflix is right for you, check out our Top 5 TV Services of 2017 for more information.