When Is the Best Time to Buy a TV?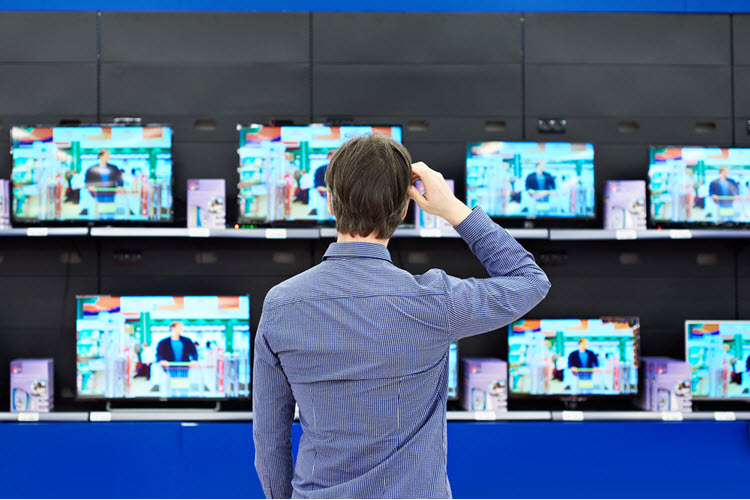 When it comes to finding the best deals on televisions, your initial guess is Black Friday. Black Friday is definitely one of them, but what about those who don't find vicious crowds during the holiday appealing? Well, good news! There are a few opportunities all year round. Here are the best times to see those discounted tags on your new TV set.
Release Cycles
It's Spring and Summer time again, and you know what that means— TV manufacturers of all brands are releasing new products on the market. Once March and April roll around, prior year's models will likely be discounted. As long as you aren't in need of the latest features which may be found on the most recent releases, you can usually secure a brand new one or two-year-old set at an incredibly discounted price.
Contrary to a few other tech devices, TV models aren't intended to be sold for multiple years. "The majority of TVs are released, sold for about a year, and then discontinued when the next year's models come out," states RTINGS¹.
Super Bowl
As the first weekend of February approaches, as does the Super Bowl, and while it may seem counterintuitive, this is one of the best times to purchase a TV. During January and February, specifically, a few weeks before the big game, average TV prices begin to rise as new models are introduced to the market; however, prices on the previous year's TVs stoop down to their low point as retailers try to clear out old inventory and create shelf space for new arrivals. You may want to keep this in mind the next time you go to the store for game-prep.
Black Friday
While Black Friday can get a bit intimidating with all of the avid shoppers, we won't want to leave this day out. Prices continue to follow a steady decline after the new release season, so by the time November hits, many sets are "selling for as little as 50% of their original retail price", according to an analysis by Consumer Reports². Customers can discover a variety of TV brands available at incredibly low prices as a wide range of retailers discount all types of products for the holiday, and TVs are generally seen as big door-busters.
For those who are adamant about avoiding the crowds, I would advise skipping the lines with Cyber Monday. Many retailers are catering to the growing online community and even offer specific online-only sales.
Another thing to be on the lookout for this holiday season— derivatives. Derivatives are special TV models specifically made by manufacturers for Black Friday. They can be similar to current models but may lack some additional features. Next time you go searching for an advertised model number and can't find any user reviews or don't see the product sold anywhere else, it's likely a derivative.
Long story short, if you want the best of the best, the prime time to buy a TV is in spring/early summer, when the bulk of the year's new models are released. If you're a bargain hunter, there are better times of the year to make your purchase.
Where To Get the Best Deals
A large number of TV manufacturers uphold a 'Unilateral Pricing Policy,' or UPP. This policy causes a set price by the manufacturers, so their TVs will generally be the same amount in every store. Retailers aren't legally obligated to honor this policy; however, manufacturers aren't legally obligated to continue business with retailers who don't comply, which is the reason why major retailers do. These days, if you see special pricing on a TV through Amazon, stores like Target and Best Buy will be having the same deal.
Be sure to take caution when buying through some brands, such as Vizio and Panasonic, as they don't have this policy. While you can sometimes find real sales on TVs through those retailers (as well as other non-UPP brands), if you see a retailer you are unfamiliar with selling a TV for much lower than the competition, there's a high chance that the deal isn't genuine, or it comes with a big catch.
Despite being UPP brands, stores such as Amazon and Walmart always try to promote incentives and other non-monetary deals to compete against each other for your dollar. Although each store's pricing policies do have their restrictions, companies like Walmart and Best Buy will price match offers found on Amazon, and some companies such as Dell, will include e-gift cards.
Written by Chloe Loveland
*¹ https://www.rtings.com/tv/deals
*² https://www.consumerreports.org/discounts-rebates/when-to-get-the-best-deals-on-tvs-kitchen-appliances/